Theo nguồn tin trên trang mạng thành phố Alexandria
Thành phố Alexandria tổ chức lần thứ 274 và Lễ kỷ niệm sinh nhật lần thứ 247 của Hoa Kỳ vào ngày 8 tháng 7 năm 2023
Schedule of Activities
274th City of Alexandria Birthday
The City of Alexandria will celebrate its 274th and the USA's 247th birthday on Saturday, July 8, at Oronoco Bay Park (100 Madison St.). The event includes a performance by the Alexandria Symphony Orchestra, ending with the Grand Finale — a fireworks display at 9:30 p.m. Admission is free!
Will you be attending?
RSVP to help us plan the best event for you!
Location: Oronoco Bay Park (100 Madison St.)
6 p.m. – Opening Music
7:30 p.m. – Welcome by NPR's Suraya Mohamed
Announcement by Town Crier
Remarks by Mayor Justin Wilson
Poetry by Alexandria Poet Laureate Zeina Azzam
8 p.m. – Distribution of birthday cupcakes by members of City Council
8:30 p.m. – Performance by the Alexandria Symphony Orchestra
9:30 p.m. – Grand finale fireworks display with Alexandria Symphony Orchestra performing 1812
Watch the Livestream
Fireworks Locations
Grand finale fireworks display, July 8 at 9:30 p.m.
Vantage points:
Canal Center Plaza (Center Canal Plaza)
Rivergate Park (2 Montgomery St.)
Oronoco Bay Park (100 Madison St.)
Founders Park (351 North Union St.)
Waterfront Park (1A Prince St.)
Point Lumley Park, (1 Duke St.)
Windmill Hill Park (501 South Union St.)
Fords Landing boardwalk (99 Franklin St.)
Jones Point Park (Jones Point Drive)
George Washington Masonic Temple (101 Callahan Drive)
In case of inclement weather, the event will be rescheduled to Sunday, July 9, at 6:00 pm.
Foods, Seats, and Parking
Food Truck vendors will be available for the public along Pendleton Street:
Vendors will be announced soon!
Seating: Oronoco Bay Park has lawn seating, and participants are encouraged to bring their own lawn chairs and blankets.
Regulations: Grilling, smoking, tents, and large or staked umbrellas are not permitted. If groups or families are separated, an area for lost persons will be located at the City stage. Please leave pets at home and be mindful of your neighbors by refraining from smoking at this event.
Parking: Visitors are encouraged to bike, walk, or take alternative public transportation. For a list of garages and parking lots in the Old Town historic district, visit Where to Park in Old Town. Handicapped-accessible parking will be available on the 500 block of N. Fairfax St.
Contact Information & Disability Accommodation
Call the Special Events Hotline, 703.746.5592, for more information.
For reasonable disability accommodation, contact arts@alexandriava.gov or call 703.746.5590, Virginia Relay 711.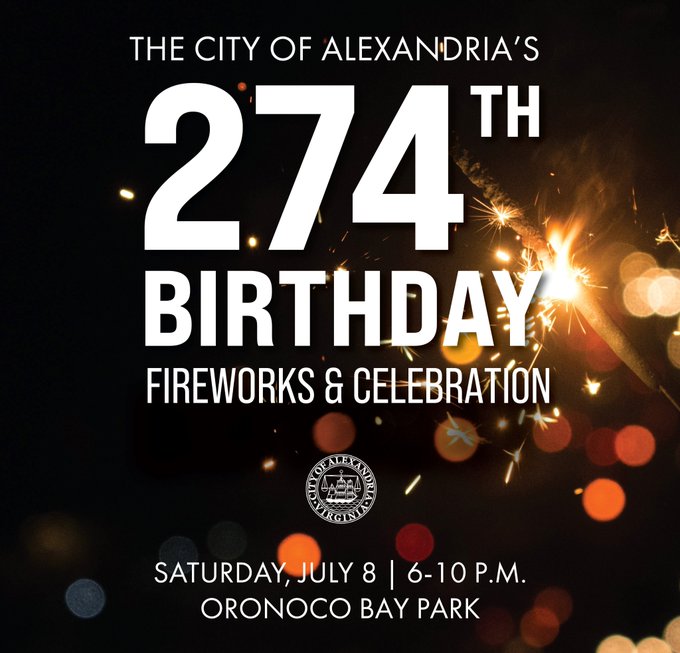 https://www.alexandriava.gov/Birthday