Theo nguồn tin visitalexandriava.com trên mạng thành phố Alexandria ở tiểu bang Virginia
February 1, 2017
CONTACTS:
Claire Mouledoux: CMouledoux@VisitAlexVA.com or 703-652-5367
Leah Spellman, APR: LSpellman@VisitAlexVA.com or 703-652-5363
70 Restaurants Participate in Alexandria Winter Restaurant Week February 17-26, 2017
Alexandria, VA – For 10 days and two weekends, 70 Alexandria restaurants—the most participants ever since the launch of Alexandria Restaurant Week—offer a $35 three-course dinner for one OR a $35 dinner for two during Alexandria Winter Restaurant Week, February 17-26, 2017. More than 30 restaurants will also offer lunch deals at $10, $15 or $20 per person in addition to the dinner specials.
Joining Alexandria Winter Restaurant Week are five new restaurants—Vola's Dockside Grill, Hen Quarter, Live Oak, Northside 10 and BurgerFi—as well as first-time participants Cafe Pizzaiolo, Dos Amigos and Hawwi Ethiopian Restaurant. Returning participants include Restaurant Eve, Bastille, Vermilion, Blackwall Hitch, Carluccio's, Cheesetique and Virtue Feed and Grain.
Alexandria Winter Restaurant Week showcases the inventiveness of local chefs in neighborhoods throughout the city, including Old Town, Del Ray, Carlyle and the West End. At a range of locales, from fine dining establishments to casual neighborhood favorites, guests will savor the flavors of Alexandria's distinctive collection of eateries.
View our menu flip-book and make reservations at www.AlexandriaRestaurantWeek.com.
Winter Restaurant Week Highlights:
Live Oak's $35 three-course dinner for one featuring options such as Hay-Smoked Rappahannock River Oysters, Shrimp and Grits and Pan-Roasted Chesapeake Rockfish
Vola's Dockside Grill's $15 lunch featuring entrées such as Alligator Jambalaya and Crispy Fried Chicken Sandwich
Restaurant Eve's $35 three-course dinner for one menu featuring dishes such as Pan Seared Fillet of Daurade with Sunchoke Purée and Local Mushroom and Basque Style Stew with Shellfish and Aïoli
BRABO's $35 three-course dinner for one featuring dishes such as Roasted Rainbow Beets, Arctic Char Filet and Smoked Chocolate Bavarian served in their refreshed space that now features an expanded bar and dining area
Columbia Firehouse's $22 three-course brunch featuring options such as Duck Confit Waffle and Tuna Tartare
Carluccio's $20 three-course lunch menu featuring dishes such as Zuppa Di Funghi, Penne Alla Luganica and Carluccio's Tiramisù
Rustico's $35 dinner for two featuring options such as BBQ Pork Sliders and Chicken Meatball Pizza
This semiannual event spans two weekends, making it an extraordinary time to transform Alexandria Restaurant Week into an even more delicious event with special rates at luxurious hotels just steps from participating restaurants. To find hotel information, go to www.VisitAlexandriaVA.com/Hotels.
WHAT: Alexandria Winter Restaurant Week
WHEN: 10 Days – February 17-26, 2017
WHERE: Neighborhoods throughout Alexandria, including Old Town, Del Ray, Carlyle and the West End
HOW: $35 three-course dinner for one OR $35 dinner for two; select locations offering lunch from $10-20/person
INFO: www.AlexandriaRestaurantWeek.com; 703-746-3301
About Alexandria Restaurant Week
Alexandria Restaurant Week was launched in 2009 by Visit Alexandria and has since been a favorite amongst patrons and restaurateurs, occurring biannually in the winter and summer. Visit Alexandria coordinates and markets the event, which is free for participating restaurants. In addition to serving as an economic driver for Alexandria restaurants, Alexandria Restaurant Week bolsters the city's reputation as a culinary destination, popular amongst presidents and well-versed foodies.
Connect with us!
Web: www.visitalexandriava.com
Blog: www.blog.visitalexandriava.com
Facebook: www.facebook.com/VisitAlexandriaVA
Twitter: www.twitter.com/alexandriava
Instagram: www.instagram.com/VisitAlexVA
Hashtags: #ExtraordinaryALX | #ALXRestaurantWeek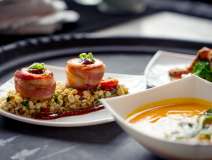 https://www.visitalexandriava.com/articles/post/70-restaurants-participate-in-alexandria-winter-restaurant-week-february-17-26-2017/