Theo nguồn tin trên trang mạng thành phố Alexandria
Tuần lễ nhà hàng To-Go trong thành phố Alexandria với hơn 60 nhà hàng từ ngày 21 đến 30 tháng 8 năm 2020.
Alexandria, VA – Trong 10 ngày và hai ngày cuối tuần, hơn 60 nhà hàng ở Alexandria, Virginia, sẽ bán các bữa ăn khi mua mang về (takeout), giao hàng tận nơi (delivery) hoặc lề đường (or curbside pick-up) trị giá 49 đô la cho hai người trong Tuần lễ Nhà hàng Alexandria To-Go từ ngày 21 đến 30 tháng 8 năm 2020. Năm nay du khách được khuyến khích mang Tuần lễ Nhà hàng Alexandria về nhà và thưởng thức các thực đơn đặc biệt từ bàn ăn, hiên nhà hoặc ghế dài thoải mái trong phòng ăn của họ. Sách thực đơn trực tuyến giúp bạn dễ dàng duyệt qua các lựa chọn ngon miệng từ hàng chục quán ăn ở Alexandria. Không có thực đơn cung cấp nào giống nhau – từ món khai vị, món khai vị và các gói rượu vang đến các bữa ăn ba món cho hai người với các món tráng miệng hấp dẫn cộng với các tùy chọn bổ sung của các loại cocktail mang đi, chắc chắn có một thực đơn phù hợp với tất cả mọi người.
Mô hình mới dành cho Tuần lễ nhà hàng Alexandria phản ánh mong muốn của khách hàng hiện tại là muốn thưởng thức các bữa ăn tại nhà hàng đồng thời mang đến cơ hội mới để hỗ trợ cộng đồng các nhà hàng địa phương của Alexandria. Sự thành công của khung cảnh nhà hàng độc lập của Alexandria là rất quan trọng đối với nền kinh tế kinh doanh nhỏ của thành phố và là yếu tố cần thiết để duy trì trải nghiệm yêu quý của thành phố cho người dân cũng như du khách khi các cơ sở địa phương này vượt qua tác động của đại dịch COVID-19.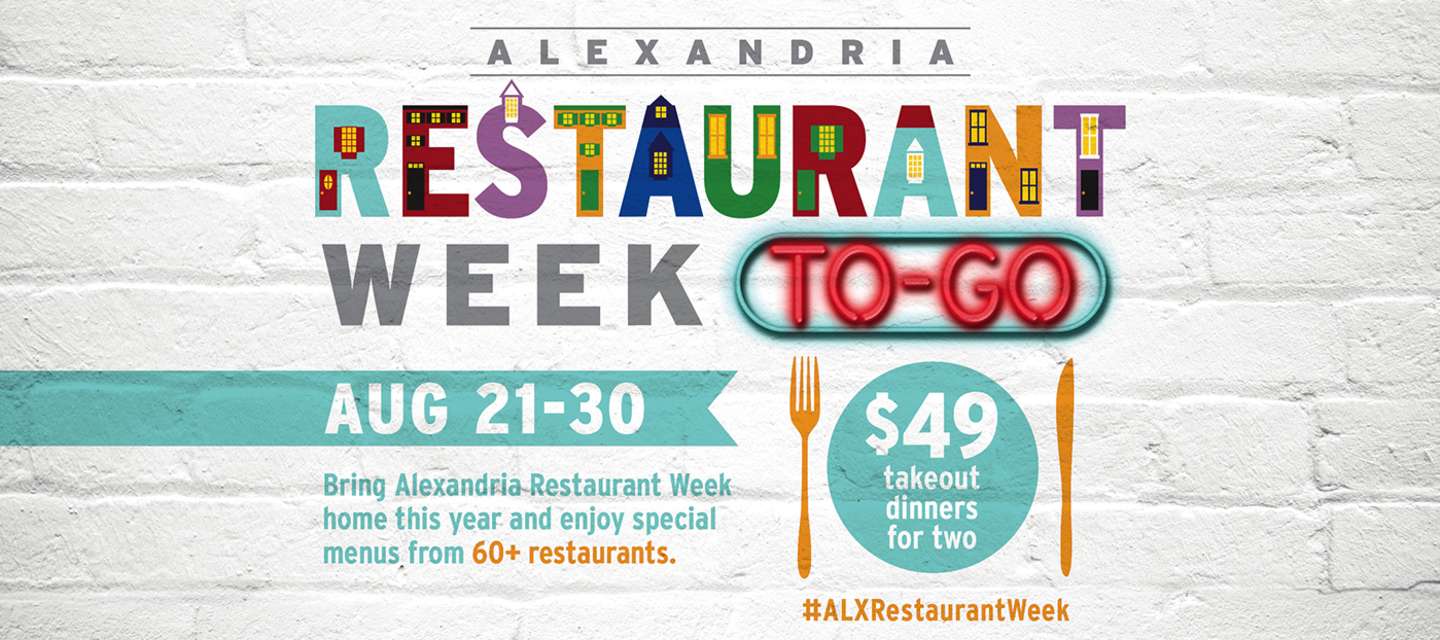 Alexandria Restaurant Week Adopts New To-Go Format Featuring 60+ Restaurants
August 5, 2020
CONTACTS:
Claire Mouledoux: CMouledoux@VisitAlexVA.com or 703-652-5367
Rebecca Doser: RDoser@VisitAlexVA.com or 585-750-4937
Download high-res images
Alexandria Restaurant Week Adopts New To-Go Format Featuring 60+ Restaurants
Alexandria, VA — For 10 days and two weekends, more than 60 restaurants in Alexandria, Virginia, will offer a $49 takeout, delivery or curbside pick-up dinner for two during Alexandria Restaurant Week To-Go, August 21-30, 2020. This year, guests are encouraged to bring Alexandria Restaurant Week home and enjoy special menus from the comfort of their dining room table, porch or couch. The online menu book makes it easy to browse delicious selections from dozens of Alexandria eateries. No menu offering is the same – from appetizer, entrée and bottle of wine packages to three-course meals for two with mouth-watering desserts plus add-on options of cocktails to-go, there is undoubtedly a menu suited to everyone.
The new to-go model for Alexandria Restaurant Week reflects current customer desire to enjoy restaurant meals at home while providing new opportunities to support Alexandria's community of locally owned restaurants. The success of Alexandria's independent restaurant scene is critical to the city's small business economy and essential to preserving a beloved experience of the city for residents and visitors alike as these local establishments weather the impact of the COVID-19 pandemic.
New Alexandria Restaurant Week participants include Taqueria Picoso, Glory Days Grill, The Light Horse, Michael's Little Italy, Sweet Fire Donna's and Mount Vernon Inn. Restaurants offering delivery (distance limitations may apply) in addition to takeout or curbside pick-up, include Chadwicks, Laporta's Restaurant, Ramparts, RT's Restaurant, Ruz Uz – Alexandria and The Wharf, among others. Returning neighborhood favorites offering takeout include City Kitchen, a la lucia, Il Porto and Northside 10.
Many participating restaurants, including Cheesetique, Spice Kraft Indian Bistro, Taqueria Picoso and Yunnan By Potomac Noodle House, have provided free meals to frontline hospital workers, first responders and neighbors affected by the COVID-19 pandemic throughout the past few months. Through Alexandria Restaurant Week To-Go, locals and visitors alike can lend their thanks to the locally owned restaurants that have provided relief throughout the community even during their own business hardships.
Alexandria Restaurant Week showcases the inventiveness of local chefs in neighborhoods throughout the city, including Old Town, Del Ray, Carlyle and Eisenhower, and the West End. From neighborhood favorites to restaurants specializing in international cuisine, guests will savor the flavors of Alexandria's distinctive collection of eateries.
View our menu flip-book and participating restaurant listings at AlexandriaRestaurantWeek.com.
Alexandria Restaurant Week To-Go Menu Highlights:
Magnolia's on King, a newly Black-owned business under Leonard Holton, a local Old Town sommelier and restaurateur, menu featuring Louisiana Style Cajun Gumbo and Banana Bread Pudding with Rum Butter Sauce
Tequila and Taco's two meal packages – the Tacos and Margaritas meal, which includes your choice of six tacos and fresh-squeezed mason jar margaritas, and the Fajitas Meal, which includes Homemade Key Lime Pie
Yunnan by Potomac, a southwestern Chinese noodle house recommended by The Washington Post, offering the choice of two small plates with options including the Pork Pelly Bun and Baked Potato Rice, dumplings such as the Chicken Basil or Garden Party and two mixian rice-noodle bowls with options including the Muogu Shitake or Braised Beef Lu
Hops N Shine's 10 days of brisket meals for a family of 4, including Baby Back Ribs, Carne Asada and Margaritas, and Cajun Jambalaya
Bottles of wine included in meal packages from Daniel O'Connell's Irish Restaurant and Bar, Haute Dogs & Fries, and Bugsy's Pizza Restaurant. Wine or beer included in meal packages from Pork Barrel BBQ and Rus Uz – Alexandria
WHAT: Alexandria Restaurant Week To-Go
WHEN: 10 days, August 21-30, 2020
WHERE: Neighborhoods throughout Alexandria, Virginia, including Old Town, Del Ray, Carlyle and Eisenhower and the West End
HOW: $49 takeout or curbside pickup dinners for two; select locations offering delivery
INFO: AlexandriaRestaurantWeek.com; 703-838-5005
ABOUT ALEXANDRIA RESTAURANT WEEK
Alexandria Restaurant Week was launched in 2009 by Visit Alexandria and has since been a favorite amongst patrons and restaurateurs, occurring biannually in the winter and summer. In addition to serving as an economic driver for Alexandria restaurants, Alexandria Restaurant Week bolsters the city's reputation as a culinary destination.
ABOUT ALEXANDRIA, VA
Named a Top 3 Best Small City in the U.S. 2019 by the Condé Nast Traveler Readers' Choice Awards and one of the South's Best Cities 2020 by Southern Living, Alexandria hums with a cosmopolitan feel and a walkable lifestyle—a welcoming weekend escape next to our nation's capital. A nationally designated historic district founded in 1749, Old Town Alexandria is home to more than 200 independent restaurants and boutiques alongside intimate historic museums and new happenings at the waterfront. At the heart of it all is bustling King Street, a walkable mile recognized as one of the "Great Streets" of America. New restaurants tucked in to 18th- and 19th-century architecture still intact from the city's days as George Washington's hometown ignite historic and off-the-beaten-path neighborhoods as the waterfront district evolves with new energy. Learn more at VisitAlexandriaVA.com.
Connect with us!
Web: VisitAlexandriaVA.com
Blog: Blog.VisitAlexandriaVA.com
Facebook: Facebook.com/VisitAlexandriaVA
Twitter: Twitter.com/AlexandriaVA
Instagram: Instagram.com/VisitAlexVA
Hashtags: #visitALX | #ALXRestaurantWeek
# # #
https://www.visitalexandriava.com/articles/post/alexandria-restaurant-week-adopts-new-to-go-format-featuring-60-restaurants/