Theo nguồn tin trên trang mạng của Arlington National Cemetery
Public invited to participate in removal of wreaths on January 11
1/2/2020
ARLINGTON, VA – Arlington National Cemetery (ANC) will hold its annual removal of wreaths, known as "Wreaths Out," Saturday, Jan. 11 beginning at 8 a.m.
Thousands of volunteers are expected to help remove the more than 245,000 wreaths placed Dec. 14 by approximately 35,000 volunteers. The high volume of volunteers may create traffic congestion and delays on nearby streets and at the cemetery's entrances.
This is a special day where the wreaths placed at these hallowed grounds during the holiday season in remembrance and honor of our nation's fallen service members and their families will be respectfully removed by volunteers. We encourage volunteers to use all four entrances to access the cemetery which include Memorial Avenue, Ord and Weitzel gate, South gate and for DoD cardholders, the Old Post Chapel gate.
There will be no vehicular access permitted on cemetery grounds until 3 p.m. Family pass holders and volunteers with handicapped placards only will be permitted to park in the Arlington National Cemetery parking garage beginning at 7 a.m. on a first-come, first-served basis. Volunteers must remain in their vehicles until the cemetery opens at 8 a.m. Ride share and taxi drivers using Memorial Avenue must drop off adjacent to the Arlington Cemetery Metro stop.
Tips for Volunteers:
Give vehicles and heavy equipment the right of way and let them pass in roadways.
Remove only WAA wreaths. Leave all other wreaths or decorations in place.
Place wreaths in dumpsters positioned throughout the cemetery and pack them tightly.
When dumpsters are filled, do not pile wreaths next to them. Carry wreaths to unfilled dumpsters.
Do not jump or climb on wreaths in dumpsters to compress them
Follow us at www.twitter.com/arlingtonnatl for updates throughout the day. For the latest information on Wreaths Out, visit www.arlingtoncemetery.mil.
Media organizations wishing to cover Wreaths Out should register by calling 703-614-0024 by noon on Jan. 9.
# # #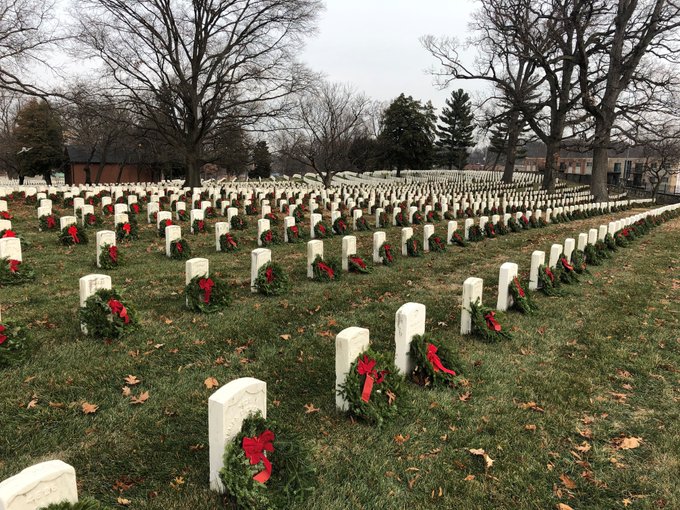 https://www.arlingtoncemetery.mil/Media/News/Post/10271/Public-invited-to-participate-in-removal-of-wreaths-on-January-11