Theo nguồn tin trên trang mạng Visit Alexandria trong thành phố Alexandria
Experience Holiday Shopping on Historic Streets in Alexandria, Virginia
Experience Holiday Shopping on Historic Streets in Alexandria, Virginia
November 6, 2019
CONTACTS:
Claire Mouledoux: CMouledoux@VisitAlexVA.com or 703-652-5367
Leah Spellman, APR: LSpellman@VisitAlexVA.com or 703-652-5363
Experience Holiday Shopping on Historic Streets in Alexandria, Virginia
Highlights Include Alexandria's Alternative Black Friday Experience, Small Business Saturday and Museum Store Sunday
Alexandria, VA—Take the hustle and bustle out of holiday shopping in Alexandria, Virginia, the Shop Small headquarters of the D.C. region. Imagine strolling centuries-old brick-lined streets, hearing carolers along the way and ducking into a cozy café filled with historic charm for a post-shopping treat. Recognized by Oprah Magazine as one of the Most Charming Christmas Towns Across the World in 2019 and by Southern Living as the Perfect Southern Town for a Hallmark Christmas Movie in 2019, Old Town Alexandria offers a holiday shopping experience in an atmosphere unlike any other. One-of-a-kind shops are donned with greenery and filled with holiday cheer. Inside, you're greeted by shop owners who know you and are offered personalized customer service and gift suggestions.
There's so much to enjoy in Alexandria throughout the holiday shopping season, from holiday markets to special events. Learn more at visitalexandriava.com/shopsmall.
An Alternative Black Friday Experience on November 29, 2019
visitalexandriva.com/blackfriday
Alexandria abounds with deals and unique in-store experiences. Returning this year is Alexandria's alternative Black Friday experience on November 29, 2019, with more than 40 independent boutiques in Old Town and Del Ray offering one-of-a-kind deals on designer and coveted merchandise, including home décor, chic fashions, gourmet food, classic toys and gifts for dogs. Store offers vary, with special discounts throughout the day and more than 10 boutiques opening by 7 a.m., including fibre space, Pacers, The Shoe Hive, Red Barn Mercantile and Bloomers.
Returning for a second year, Old Town Business and Old Town Boutique District celebrate with Plaid Friday, a relaxing and enjoyable alternative to big box stores' Black Friday that is designed to promote both local and independently owned businesses during the holidays. Look for the Plaid Friday posters on retailers' doors to see which stores are participating and snag a limited-edition tote when you spend $100 or more after 10 a.m., plus free gift-wrapping at Izalia Spa with a $50 purchase from participating retailers. You'll also have the chance to win a free gift card if you wear plaid or post a picture on Instagram capturing Old Town's holiday spirit with the hashtag #spottedinOT.
Small Business Saturday on November 30, 2019
visitalexandriava.com/smallbusinesssaturday
On Alexandria's Small Business Saturday, November 30, 2019, shoppers will be treated to free parking at parking meters and special in-store activities at more than 40 independent boutiques in Old Town and Del Ray. Stroll historic streets twinkling with holiday traditions as you meet local authors and designers, enjoy special discounts, sip and snack on free treats, enjoy hands-on activities and take home free gifts with purchase. New this year, enjoy Caroling & Candy Canes, presented by the Alexandria Arts Alliance at the Alexandria Visitor Center from 1 p.m. to 3 p.m., and a Small Business Saturday Scavenger Hunt presented by Old Town Business from 11 a.m. to 5 p.m. For the scavenger hunt, shop and dine in Old Town at participating businesses and get your map stamped 10 times to be entered to win the grand prize.
Museum Store Sunday on December 1, 2019
visitalexandria.com/museumstoresunday
Give the gift of history to your friends and family on Museum Store Sunday, returning for a third year on December 1, 2019 and part of an international campaign led by the Museum Store Association. Shop at Alexandria's premier museums and enjoy special giveaways and discounts, including 20% off all merchandise at participating Office of Historic Alexandria sites. From books to historic reproductions to local keepsakes, the perfect gift can be found in historic Alexandria. Participating museum stores include the Alexandria Archaeology Museum, the Alexandria Black History Museum, The Alexandria History Museum at The Lyceum, Carlyle House Historic Park, Gadsby's Tavern Museum, Friendship Firehouse Museum, Fort Ward Museum & Historic Site, Lee-Fendall House and the Stabler-Leadbeater Apothecary Museum.
ABOUT ALEXANDRIA, VA
Experience holiday magic on historic streets in Old Town Alexandria, Virginia, located just minutes from Washington, D.C. Recognized by Oprah Magazine as one of the Most Charming Christmas Towns Across the World in 2019 and by Southern Living as the Perfect Southern Town for a Hallmark Christmas Movie in 2019, visitors feel transported by an old fashioned sense of holiday wonder on Old Town Alexandria's centuries-old brick-lined streets, twinkling with holiday traditions and magical events. Bask in the warmth of time-honored festivities like the Campagna Center's 49th Annual Scottish Christmas Walk Weekend, featuring a parade of Scottish clans and Scottie dogs, as well as the 20th Annual Alexandria Holiday Boat Parade of Lights on the Potomac River. Dozens of independent boutiques welcome you with greenery at their doorsteps, offering everything from chic fashions and home décor to classic toys and gifts for dogs. Duck into cozy cafés and chef-driven restaurants tucked into 18th-century buildings to warm up with loved ones and good cheer. Under a canopy of sparkling lights, a stroll on historic King Street is like being in a real-life Dickens Village, complete with European flair. Recognized as a Top 3 Best Small City in the U.S. 2019 by the Condé Nast Traveler Readers' Choice Awards, Alexandria offers an authentic holiday experience—the way it was meant to be. To learn more about Alexandria at the holidays, visit visitalexandriava.com/holidays.
Connect with us!
Web: VisitAlexandriaVA.com
Blog: blog.VisitAlexandriaVA.com
Facebook: Facebook.com/VisitAlexandriaVA
Twitter: Twitter.com/AlexandriaVA
Instagram: Instagram.com/VisitAlexVA
Hashtags: #visitALX
# # #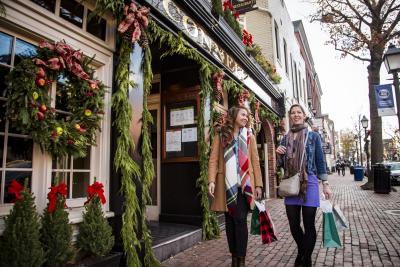 https://www.visitalexandriava.com/articles/post/experience-holiday-shopping-on-historic-streets-in-alexandria-virginia/