Theo nguồn tin trên trang mạng thành phố Alexandria trong tiểu bang Virginia
Hơn 70 nhà hàng trong thành phố Alexandria tham gia Tuần lễ nhà hàng mùa hè từ ngày 16 đến ngày 25 tháng 8 năm 2019
More Than 70 Restaurants Participate in Alexandria Summer Restaurant Week August 16-25, 2019
July 31, 2019
CONTACTS:
Claire Mouledoux: CMouledoux@VisitAlexVA.com or 703-652-5367
Leah Spellman, APR: LSpellman@VisitAlexVA.com or 703-652-5363
More Than 70 Restaurants Participate in Alexandria Summer Restaurant Week August 16-25, 2019
Alexandria, VA—For 10 days and two weekends, more than 70 restaurants in Alexandria, Virginia, will offer a $35 three-course dinner for one OR a $35 dinner for two during Alexandria Summer Restaurant Week, August 16-25, 2019. More than 35 restaurants will also offer lunch menus at $15 or $22 per person in addition to the dinner specials. Brunch lovers can enjoy brunch menus for $15 or $22 per person at nearly 20 restaurants.
New Alexandria Summer Restaurant Week participants include King Street newcomers Urbano 116 and Village Brauhaus; North Old Town's Yunnan by Potomac and just-opened Oak Steakhouse; new Del Ray favorites Catch on the Ave. and Hops N Shine; and the Carlyle neighborhood's Tequila & Taco and highly anticipated Whiskey & Oyster. Returning participants include Bastille Brasserie & Bar, Brabo Brasserie, Cheesetique, Del Ray Café, Hank's Pasta Bar, The Majestic, Sonoma Cellar and Vermilion. Restaurants with lunch offerings include Bistro Sancerre, Fontaine, Hummingbird, Jackson 20, Sunday in Saigon and Vola's Dockside Grill. Restaurants with brunch menus include Café 44, Cedar Knoll, Chadwicks, Namaste and The Wharf.
Alexandria Summer Restaurant Week showcases the inventiveness of local chefs in neighborhoods throughout the city, including Old Town, Del Ray, Carlyle and Eisenhower, and the West End. At a range of locales, from neighborhood favorites to restaurants specializing in international cuisine, guests will savor the flavors of Alexandria's distinctive collection of eateries. Visitors can take advantage of a summer parking discount of $2 after 5 p.m. weekdays and all day on weekends at City-owned garages and surface lots. Parking meters are always free on Sundays and after 9 p.m.
View our menu flip-book and make reservations at www.AlexandriaRestaurantWeek.com.
Alexandria Summer Restaurant Week Menu Highlights:
New participant Whiskey & Oyster's $35 per person dinner menu with options like Jumbo Lump Crab Cake, Bourbon Maple Shrimp & Grits and Pacific Wild Salmon
New participant Urbano 116's $35 prix-fixe dinner for one featuring Swordfish Tiradito, Pork Belly and Oaxacan Forest for dessert
Jackson 20's $15 brunch menu featuring options such as Buttermilk Fried Chicken & Waffle and Bourbon Caramel French Toast alongside your choice of wine, beer, Mimosa or Bloody Mary
New participant Yunnan by Potomac's $35 dinner for two featuring options such as Wasabi Bok Choy, Muogu Shiitake and Braised Beef Lu
Vermilion's $35 three-course dinner for one featuring options such as Chilled Melon Soup, Cornmeal-Crusted Blue Catfish and Campanelle
New participant Hops N Shine's $15 lunch per person featuring options such as Loaded Pulled Pork and Cheese Tots, Jumbo Wings, and the Delmarva Shrimp and Crab Grilled Cheese
This semiannual event spans two weekends, making it the perfect time to transform Restaurant Week into a delicious Restaurant Weekend with special rates at luxurious hotels just steps from restaurants and attractions. To find hotel information, go to www.VisitAlexandriaVA.com/Hotels.
WHAT: Alexandria Summer Restaurant Week
WHEN: 10 days, August 16-25, 2019
WHERE: Neighborhoods throughout Alexandria, Virginia, including Old Town, Del Ray, Carlyle and Eisenhower, and the West End
HOW: $35 three-course dinner for one OR $35 dinner for two; select locations offering lunch from $15 or $22 per person lunch and brunch menus
INFO: www.AlexandriaRestaurantWeek.com; 703-838-5005
PHOTOS: Download high-res images
About Alexandria Restaurant Week
Alexandria Restaurant Week was launched in 2009 by Visit Alexandria and has since been a favorite amongst patrons and restaurateurs, occurring biannually in the winter and summer. In addition to serving as an economic driver for Alexandria restaurants, Alexandria Restaurant Week bolsters the city's reputation as a culinary destination.
Connect with us!
Web: www.VisitAlexandriaVA.com
Blog: www.Blog.VisitAlexandriaVA.com
Facebook: www.Facebook.com/VisitAlexandriaVA
Twitter: www.Twitter.com/AlexandriaVA
Instagram: www.Instagram.com/VisitAlexVA
Hashtags: #visitALX | #ALXRestaurantWeek
# # #
Online Reservation
https://www.opentable.com/promo.aspx?m=9&pid=426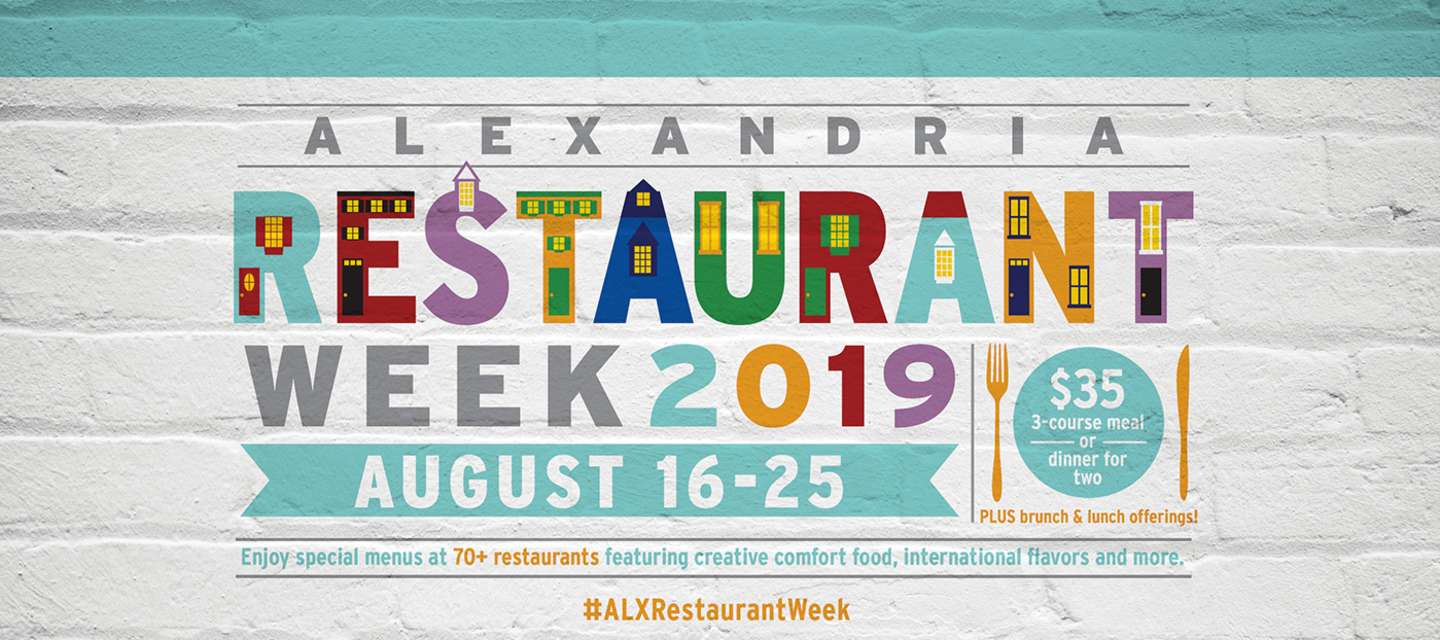 https://www.visitalexandriava.com/articles/post/more-than-70-restaurants-participate-in-alexandria-summer-restaurant-week-august-16-25-2019/