Theo nguồn tin trên trang mạng quận Arlington trong tiểu bang Virginia
The National Weather Service dự đoán thời tiết cho quận Arlington với nhiệt độ quá mức khoảng 110-115 độ và độ ẩm nguy hiểm từ 11 giờ sáng đến 9 giờ tối mỗi ngày từ thứ Sáu 19 cho đến Chủ nhật 21 tháng 7 năm 2019
Dangerous Heat and Humidity Through the Weekend
July 17, 2019 | News Release
UPDATED (July 18, 2019): The National Weather Service has issued an Excessive Heat Watch from 11 a.m. to 9 p.m. each day from July 19 to July 21. The news release below has been updated.
The National Weather Service has issued an Excessive Heat Watch for Arlington County, with dangerous heat and humidity likely Friday through Sunday. Air temperatures are forecast to be in the mid to upper 90s, with heat index values potentially around 110-115 degrees.
Staying Cool
Extreme heat can cause serious heat-related illnesses. Stay indoors during the hottest parts of the day. Reschedule outdoor activities, especially strenuous ones like work or exercise, to the morning or evening hours. If you do spend time outside, wear light-weight, loose-fitting clothing. Drink plenty of non-alcoholic fluids like water, even if you're not thirsty. Never leave anyone — infants, children or pets — in a parked car.
If you need respite from the heat, all County facilities, including Community Centers and Arlington Public Libraries, are air-conditioned and will be open to the public during regular hours through the weekend. MedStar Capitals Iceplex will also be open to the public. Community use pools and spraygrounds will be open on regular hours.
Reporting Power Outages
Power outages and brownouts can be more common or widespread during periods of extreme heat. If your power goes out, report it to Dominion Energy at 1-866-366-4357, or online. To help avoid power interruptions, take these steps at home or in the office.
Protecting Homeless Neighbors
To help safeguard homeless individuals against the extreme heat, the County is opening the overflow space at the Homeless Services Center at 2020-A 14th St. N. in Courthouse through Sunday night. Encourage anyone you may encounter on the streets to take shelter. Call 703-228-7802 for more information.
More tips for staying safe and cool during this extreme weather event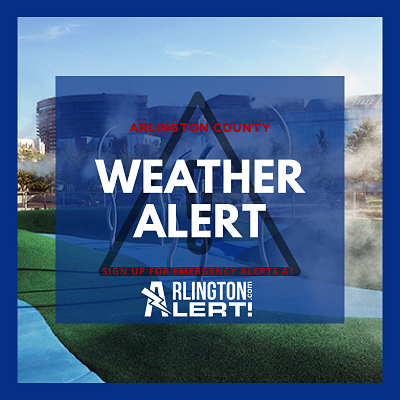 https://newsroom.arlingtonva.us/release/dangerous-heat-humidity-through-the-weekend/