More than 70 Percent of Airport Eateries Serve Disease-Fighting Foods; LAX Ranks Firs
Theo nguồn tin trên trang mạng
WASHINGTON, DC (PRWEB) DECEMBER 04, 2015
Flying for the holidays? Whether you're traveling to San Francisco or Dallas, holiday travelers will have an easy time finding heart-healthy meals, ranging from beet burgers and leafy green quinoa bowls in California to spicy black bean salads and sweet potato burritos in Texas, according to the Physician Committee's 2015 Airport Food Review. Seventy-one percent of restaurants at the nation's 30 busiest airports offer at least one high-fiber, plant-based, vegan meal option—a 25 percent increase from 2001.
Los Angeles International Airport (LAX) ranks first this year with 90 percent of its airport eateries offering nutrient-dense vegan meal options. Newark Liberty International Airport (EWR), San Francisco International Airport (SFO), Philadelphia International Airport (PHL), and Denver International Airport (DEN) all rank in the top five, with 80 to 84 percent of their eateries offering entrées that push the healthy basics—vegetables, whole grains, fruits, and legumes—to the center of the plate.
Minneapolis-St. Paul International Airport (MSP) and Hartsfield-Jackson International Airport (ATL) fall to the bottom of the report, with failing grades of 56 and 57 percent, respectively, due to a higher proportion of fast-food restaurant chains, including Burger King and McDonalds, clogging their airport terminals.
What constitutes a healthful meal?
"We're looking for fiber-packed menu items that prevent blood sugar levels from spiking and promote fullness," says Cameron Wells, M.P.H., R.D., associate director of clinical nutrition with the Physicians Committee. "Salads that mix a leafy green base and are topped with root vegetables, lentils or beans, whole grains, and garnished with fresh fruit, nuts, or seeds is always a great find."
The National Restaurant Association identifies nutrition in its list of top 10 culinary themes for 2016, hot on the heels of plant-based recommendations outlined in the scientific report for the 2015 Dietary Guidelines for America.
Restaurants, including Real Food Daily at LAX, are catering to this demand with Mediterranean Bowls and Real Food Meals, a mix of vegetables, beans, and grains, making it easy for the most healthful choice to be the easiest choice, especially for travelers on the go.
Studies show plant-based diets are an effective way to lose and maintain a healthy weight, stabilize blood sugar, lower blood pressure, alleviate anxiety, depression, and fatigue, and may even reduce the risk of certain forms of cancer and delay the early onset of Alzheimer's disease.
The scores for the 2015 Airport Food Review are as follows:
Airport and Final Score
1. Los Angeles International Airport (LAX): 90%
2. Newark Liberty International Airport (EWR): 84%
3. (tie) San Francisco International Airport (SFO): 82%
(tie) Philadelphia International Airport (PHL): 82%
5. Denver International Airport (DEN): 80%
6. (tie) Ronald Reagan Washington National Airport (DCA): 79%
(tie) Salt Lake City International Airport (SLC): 79%
8. (tie) Dulles International Airport (IAD): 77%
(tie) Baltimore/Washington International Airport (BWI): 77%
10. John F. Kennedy International Airport (JFK): 76%
11. Logan International Airport (BOS): 75%
12. Chicago Midway International Airport (MDW): 74%
13. (tie) Seattle-Tacoma International Airport (SEA): 72%
(tie) Miami International Airport (MIA): 72%
15. San Diego International Airport (SAN): 70%
16. (tie) Las Vegas McCarran International Airport (LAS): 67%
(tie) Charlotte Douglas International Airport (CLT): 67%
18. Dallas/Fort Worth International Airport (DFW): 65%
19. (tie) Houston George Bush International Airport (IAH): 64%
(tie) Phoenix Sky Harbor International Airport (PHX): 64%
21. Chicago O'Hare International Airport (ORD): 62%
22. Orlando International Airport (MCO): 61%
23. Hartsfield-Jackson Atlanta International Airport (ATL): 57%
24. Minneapolis-St. Paul International Airport (MSP): 56%
Airport Rankings
The Physicians Committee collects airport restaurant menus from the top 30 busiest airports in the United States, based on data from the Federal Aviation Administration. Inconclusive data eliminates an airport from the final rankings. An airport restaurant receives a point if its menu includes at least one cholesterol-free, plant-based, high-fiber lunch or dinner entrée. Entrées must be clearly labeled on the menu. Side dishes don't count. Breakfast entrées and coffee kiosks are omitted from the 2015 report, creating stricter grading standards.
The final percentage score for each airport divides the airport's number of restaurants serving health-conscious fare by its total number of restaurants. Survey methods for the 1,227 menus included in the 2015 report include in-person visits, internet research, and phone calls with restaurant managers and food service teams to confirm menu items.
The 2015 rankings and a healthful consumer travel guide are available at
AirportFoodReview.org.
For a copy of the report or to request an interview with a Physicians Committee registered clinician, please contact Jessica Frost at 202-527-7342 or jfrost(at)pcrm(dot)org.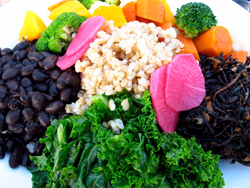 http://www.prweb.com/releases/2015/12/prweb13114409.htm