Hearth, Patio & Barbecue Association Shares Ideas for the Ultimate Backyard Tailgate
Theo nguồn tin trên trang mạng
ARLINGTON, VA. (PRWEB) OCTOBER 20, 2015
Are you ready for some football? With another season of America's favorite sport well underway, fans are switching things up, ditching the typical parking lot tailgate and opting to host "homegating" events in their own backyards.
According to the Hearth, Patio & Barbecue Association (HPBA), football games are the most popular tailgating events among grill owners.* But as the "homegating" trend continues to rise, more and more grill owners are taking a time-out from the typical tailgate scene and setting up the ultimate football headquarters right in their backyard, bringing the game-day atmosphere to the comfort of their own home.
"The homegating trend gives football fans the best of both worlds. Fans can fire up their grill and cheer on their favorite team without even having to leave their home," said Jack Goldman, President and CEO, HPBA. "Homegating also opens up endless options for grill owners as they're no longer confined to stadium or venue tailgating restrictions and they don't have to choose which grilling accessories to bring along and which to leave at home."
The industry association is helping consumers get their game plan together with these tips for a winning homegating event:
1. Draft a strong safety: You can't win without a solid defense. Tackle common grilling errors and avoid a homegating penalty by brushing up on your barbecuing safety tips in your pre-game warmup.
2. Equipment check: Don't drop the ball on making sure your equipment is working properly before the party kicks off. Fuel up with charcoal, wood chips or a propane tank and brushing up on the safety guidelines for your grill.
3. Pre-game prep: Prep and marinate meat before the crowd arrives. Mix dips, cut up fruit and chop veggies so everything is grill-ready for game time.
4. Go the extra yard: Score big by offering to bring an extra grill to the party. There are plenty of easy portable options like a tailgate grill that attaches to your vehicle, a portable grill with a push-button ignitor, or a small smoker. You can even make pizzas on-the-go with an oven tailgater.
5. Be a team player: Smoked or grilled meat may be the MVP at your homegate party, but to really win big, grill up sides, desserts or veggie kabobs using a grill stone to keep sauces and marinades from slipping through the grates, or use a pizza oven to whip up a few pies for an appetizer that everyone will love.
6. Rally the team: Before the pros kick-off, rally your teammates for some backyard competition. Toss around a football or play a game of Cornhole – just make sure all activates take place a safe distance away from the grilling area.
7. Complete the two-point conversion: Score the extra point for your party with the ultimate homegating patio accessories. Fire up the patio heater to keep your guests around post-game, or huddle around a fire pit to celebrate a big win with a cold beverage from your bar caddy.
8. Trade in your quarterback: Just as every team relies on its quarterback, every homegate needs a solid grill. Consider upgrading to a new model or adding a new flame to the team with a smoker or charcoal grill.
Score a touchdown during your homegating party with these fan favorite recipes from HPBA's playbook.
Plank-Grilled Potato Skins
Source: Napoleon Grills
Serves 12-36
Prep time: 1 hour 30 minutes
Grill time: 20 minutes
Ingredients:
1 -2 cedar planks, soaked overnight
6 baking potatoes
1/4 cup olive oil
1/4 cup rib rub
1 cup barbecue sauce
8 slices bacon, diced, fried crisp and wrapped in paper towel
1/2 cup shredded old orange cheddar cheese
3-4 green onions, chopped
Directions:
Boil or bake potatoes until tender. Cut in half lengthwise and scoop out flesh (reserve for another use), leaving a ¼ to ½ inch shell. Preheat grill to medium high or 450 degrees Fahrenheit.
Cut each potato shell lengthwise into 3-5 wedges. Rub both sides of wedges with olive oil. Sprinkle with rib rub and place skins on pre-soaked planks. Set planks on the grill, close lid and grill-roast for 10-12 minutes.
Generously brush wedges with barbecue sauce. Sprinkle with bacon and cheese. Grill another 3-5 minutes, or until cheese has melted and the edges of skins are crispy. Remove from grill and garnish with chopped green onions.
Serve immediately from the plank with additional barbecue sauce on the side.
Maple Glazed Chicken Wings
Source: Primo Grills
Serves 4-6
Prep time: 1 hour
Grill time: 45 minutes
Ingredients:
4 pounds chicken wings
Marinade Ingredients:
1 1/2 cup pure maple syrup
1 lemon (fresh squeezed juice)
1 1/2 tablespoons extra virgin olive oil
Additional olive oil for brushing
7 teaspoons kosher salt
7 teaspoons fresh ground pepper
*For spicy wings, add 1 tablespoon cayenne pepper or crushed red pepper
Directions:
Thoroughly whisk together all marinade ingredients in a pot. Allow mixture to come to a boil. Simmer until salt is dissolved and allow to cool to room temperature. Set aside a portion of the marinade to brush on the wings while roasting. Place the remaining marinade and chicken in a resealable plastic bag and refrigerate for 1-4 hours.
Rinse the chicken pieces and pat dry. Lightly brush with olive oil to prevent sticking.
Prepare grill for indirect heat and head to 325 degrees Fahrenheit. Place the chicken on the indirect side of the grill (opposite charcoal). Roast 20 minutes and brush with marinade. Turn the chicken wings over and brush with marinade. Roast an additional 20 minutes.
Move the wings to the direct side of the grill for five minutes to crisp up the skin, turning frequently. Remove from grill and serve immediately.
Candied Pork Back Ribs
Source: Napoleon Grills
Serves 4
Prep time: 10 minutes
Marinade time: 24 hours
Grill time: 3.5 hours
Ingredients:
2 racks pork back ribs
1 cup brown sugar
2 tablespoons BBQ seasoning
1 tablespoon garlic powder
2 teaspoons freshly ground black pepper
1/4 cup brown sugar
1 cup honey
Sauce Ingredients:
3/4 cup BBQ sauce
1/4 cup pure maple syrup
3 tablespoons soy sauce
1 clove garlic, grated
Salt and pepper to taste
Directions:
Remove the silver skin from the back of the ribs and cut each rack in half. In a bowl, mix brown sugar, BBQ seasoning, garlic powder and black pepper. Generously rub the seasoning mixture on all sides of the ribs. Place ribs onto a baking tray and refrigerate for 24 hours.
Soak your favorite wood chips for at least 30 minutes. Preheat your smoker or charcoal grill to 200 to 220 degrees Fahrenheit. Fill smoker tube with wood chips or place directly onto the charcoal.
Place ribs on the grill bone side down and cook for 1.5 hours. Remove ribs from the grill and place on tin foil. Coat tops of ribs with brown sugar and honey. Wrap tightly in foil and return to grill for another hour.
While ribs are cooking, combine BBQ sauce, maple syrup, soy sauce, garlic, salt and pepper in a bowl. After one hour in the foil, unwrap the ribs and glaze with sauce every 10 minutes until the sauce is gone and the ribs are shiny and sticky.
Remove from grill. Slice between each rib and serve.
*Source: 2014 HPBA Barbecue Lifestyle, Usage & Attitude Study.
# # #
About Hearth, Patio & Barbecue Association (HPBA)
The 2,100-member Hearth, Patio & Barbecue Association (HPBA), based in Arlington, Va., is the North American industry association for manufacturers, retailers, distributors, representatives, service firms and allied associates for all types of hearth, patio and barbecue appliances, fuels and accessories. The association provides professional member services and industry support in education, research, government relations, marketing, advertising, and consumer education.
Media Contact: Eric Davis, Harvest PR & Marketing, 612.424.7545, eric@Harvest-PR.com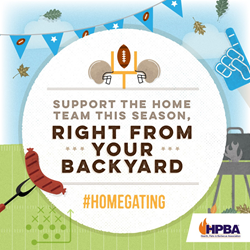 http://www.prweb.com/releases/2015/10/prweb13031335.htm