Communities In Schools Honors Class of Change
Arlington, Va. (PRWEB) May 18, 2015
Communities In Schools (CIS), the nation's largest and most effective dropout prevention organization, today announced a national campaign to celebrate the millions of high school graduates and successful students who have overcome incredible challenges in their lives – including poverty, homelessness, hunger or unstable home lives.
The students are being celebrated in a national online yearbook that includes:

Celebratory photos, quotes and videos posted by students, teachers and staff to social media with the hashtag #ClassOfChange15;
Amazing stories of students and graduates who have overcome barriers and gone on to succeed in school; and
Inspiring advice and well wishes submitted by parents, friends and neighbors with the hashtag #CISGradAdvice.
Those photos, videos, quotes, stories, advice and congratulatory messages have been digitally assembled into an online, shareable national yearbook which can be found at communitiesinschools.org/classofchange15
Communities In Schools President Dan Cardinali said the national yearbook will celebrate students from across the country who have reached a pivotal milestone in their lives.
"The improved academic performance of low-income students – who are now the majority in public schools – is the reason the country is now celebrating an unprecedented 81% high school graduation rate," said Cardinali. "One-by-one, these remarkable kids are closing the achievement gap and helping us change the picture of education in our country. We believe this national yearbook is a fitting tribute to the 2015 and a demonstration of the scope and impact of the work that CIS does to serve disadvantaged students across our country."
###
Communities In Schools operates in more than 2,400 schools in the most challenged communities of 25 states and the District of Columbia. Working closely with school districts and partner organizations, Communities In Schools serves nearly 1.5 million young people and their families each year. Based directly inside schools throughout the country, Communities In Schools site coordinators connects students and their families to basic and critical educational and community-based resources, tailored to each student's specific needs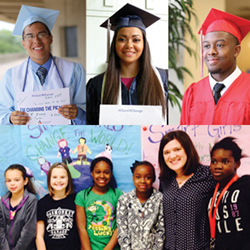 http://www.prweb.com/releases/2015/05/prweb12727731.htm