Theo nguồn tin trên mạng prweb.com
Non-profit World T.E.A.M. Sports, April 24-26 Face of America bicycle, recumbent bicycle and hand cycle ride will include nearly 600 cyclists, among them 135 injured veterans, who will ride 110 miles in two days from Arlington, Virginia to Gettysburg, Pennsylvania.
Arlington, Virginia (PRWEB) April 22, 2015
Nearly 600 riders, including 135 veterans with disabilities, will participate in the April 24-26 Face of America bicycle, recumbent bicycle and hand cycle ride from national non-profit World T.E.A.M. Sports. The annual 110-mile ride from the Pentagon in Arlington to the historic Civil War battlefields of Gettysburg, Pennsylvania is among the largest non-competitive cycling events in the greater Washington D.C. region.
Honoring our nation's military veterans who were injured or who became disabled in service, the ride will welcome participants from 37 states, Puerto Rico, Canada and Denmark. Participating injured veterans include individuals who lost vision, hearing, or limbs; persons with Post Traumatic Stress, Traumatic Brain Injury; or who have paralysis. For many of these injured veterans, riding in the Face of America is an important part of their physical fitness program, and provides an opportunity to connect with other veterans who are faced by similar life challenges.
Directed by World T.E.A.M. Sports, the Face of America was first held in 2000 as a cross-country bicycle ride, with teams from each coast meeting at the Gateway Arch in St. Louis. In 2002 and 2003, the Face of America served as the official 9/11 bicycle ride from Ground Zero in New York to the Pentagon, attracting more than 2,000 participants. The ride was redirected in 2006 to honor military personnel injured or killed in wars and conflicts from Korea to Vietnam to Afghanistan and Iraq.
The Face of America will see riders depart the Pentagon in Arlington early in the morning of April 25. Riding 55 miles north through suburban communities, the athletes will spend that evening in Frederick, Maryland. The following morning, an early departure sends the riders another 55 miles through scenic northwestern Maryland to the historic battlefields of Gettysburg, Pennsylvania. Arriving at the AllStar Expo Complex at the Eisenhower Hotel in Gettysburg by 1 p.m., the riders will be warmly welcomed by family, friends, colleagues and the general public.
For many of the ride participants, the Face of America offers an opportunity for civilian riders to meet and ride alongside active duty and retired military members, including individuals with disabilities. Riding at a leisurely pace of about ten miles an hour, the riders learn each other's life stories and create a team to overcome challenges, such as climbing steep hills. Many strong friendships develop through the ride, extending beyond its April 26 conclusion.
United States Marine Corps MSgt William "Spanky" Gibson of Oklahoma will attend the April 24 Face of American banquet as the honored guest speaker. MSgt Gibson was deployed to Iraq in 2008 as America's first above-the-knee amputee to return to a ground combat area of operation. He will be joined by members of The American Bombshells, a New York-based musical group that offer a classic 1940s look and patriotic A Capella music.
Since 2007, more than $2.7 million has been raised through donations to participants of Face of America and through generous sponsorship support. The majority of these funds cover the cost of the rides, with remaining funds supporting other inclusive events from World T.E.A.M. Sports. The non-profit directs events such as the Adventure Team Challenge in Colorado's high mountains and the Coastal Team Challenge along the coast of Long Island, New York. In 2014, of every dollar received by the non-profit organization, $.87 was applied to funding events and covering participation costs of athletes with disabilities.
The 2015 Face of America Ride is supported through sponsorships from Capital One Bank, American Portfolios Financial Services, Booz Allen Hamilton, Benson Botsford LLC, Brioni, CA Technologies, Deven's Recycling, DuPont Fabros Technology, Fidelity & Guaranty Life, Freshbikes, General Electric, Lerch, Early & Brewer, Penske Truck Rental, Sila Solutions Group, SUBWAY of the Walter Reed National Military Medical Center, Three Wire Systems LLC, U.S. Silica, Vedder Price, Veterans Corps of America and Xtiva Financial Systems.
About World T.E.A.M. Sports
World T.E.A.M. Sports is a 501(c)(3) not-for-profit organization chartered in North Carolina and headquartered in Holbrook, New York. Since 1993, World T.E.A.M. Sports has organized athletic events for disabled and able bodied citizens – mountain climbing, white water rafting, biking, and more. Four things always happen at our events: (1) Disabled participants build self-confidence and physical fitness; (2) The disabled provide a role model for other disabled citizens, encouraging them to take up physical activities; (3) The disabled become a moving inspiration to other participants and to spectators when they see that disabled individuals can meet challenges beyond anyone's imagination; and (4) The disabled and able-bodied participants learn to work as a team to overcome those challenges. World T.E.A.M. Sports changes lives through sports.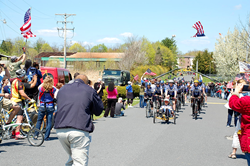 http://www.prweb.com/releases/2015/04/prweb12671492.htm