Theo nguồn tin trên mạng prweb.com
Customizable Burger Franchise Chain Continues Expansion with First Restaurant in Arlington
Dallas, TX (PRWEB) April 08, 2015
Only 8 years after the first restaurant opened its doors in the Dallas area, MOOYAH Burgers, Fries & Shakes, a fast-casual, better burger franchise chain, is excited to announce the opening of its 25th DFW area MOOYAH location and its first Arlington location. The new Arlington MOOYAH is located at 2141 North Collins Street, Suite 525 and opens on April 6. The new restaurant is owned by friends and business partners, Rahim Khandoker and Jahid Niaz. MOOYAH hopes to become an Arlington staple, bringing a delicious dining experience to families, friends and neighbors.
"The Dallas area is our home and where the MOOYAH dream started, so we are extremely proud to open our 25th location in the area and hope to bring even more locations to feed the cravings of our Guests that call the greater Dallas-Fort Worth area home," said Michael Mabry, chief operating officer of MOOYAH. "Things really are bigger in Texas, and we'll continue opening new MOOYAH restaurants in the area as our Guests demand more MOOYAH."
Khandoker and Niaz have been good friends for a number of years since moving to the United States, and are excited to be opening their first restaurant together. The partners have experience in the restaurant industry. Khandoker previously worked as an assistant manager at Taco Bell and Niaz has experience in the Arby's restaurant system.
"Both Jahid and I worked in the fast-food industry but for our first restaurant we wanted to find an elevated way for families and friends to enjoy a good meal together with a quality product that is second-to-none," Khandoker said. "With MOOYAH, we found a hometown brand that simply does burgers better and we are confident that the people of Arlington will love the MOOYAH experience once they come and dine with us. "
The partners first learned of MOOYAH when Rahim's daughter introduced him to the brand. They had already been looking to open a franchise restaurant, and after visiting one day and tasting the food, they knew they had found the right opportunity for them.
"It's an exciting time for MOOYAH and the Arlington market has the perfect mixture of foodies and families for the brand to grow," said Mabry. "We are excited to start serving up customizable and delicious burgers to even more folks in the Dallas-Fort Worth area."
At MOOYAH, Guests have the advantage of choosing from a variety of bun options, such as baked in-house artisan white or multigrain wheat buns and hand-crafted lettuce buns to accompany the never-frozen 100 percent American beef patty, all-natural Jennie-O turkey patty or the mouthwatering black bean veggie patty. Each gourmet burger can be customized with five cheese, applewood smoked baked, sliced avocado, along with nine free veggie toppings and 11 free sauces.
MOOYAH French fries come together in a six-step process that takes a total of 24 hours to completely prepare. A delightful combination of constant attention and a little magic help transform U.S. #1 Idaho potatoes into perfect, crisp-on-the-outside and fluffy-on-the-inside fries. Guests also have the choice of savory sweet potato fries. Never one to forget dessert, MOOYAH offers real ice cream shakes, allowing Guests to choose from 10 flavors ranging from vanilla to Hershey's chocolate to Reese's to strawberry banana and more.
In 2015, MOOYAH is on pace to open 30 new locations and reach the milestone of 100 before the close of the year. The booming better burger brand is set to enter several new states in 2015, with the first MOOYAH restaurants in Wisconsin, Indiana, Ohio, New York, Massachusetts, and Florida scheduled to open this year. Additionally, the brand will increase their established presence in states including California, Texas, Illinois, and Louisiana, with five more scheduled openings in New Jersey alone. The brand continues to spread the unique MOOYAH experience beyond domestic borders too. MOOYAH will open their first restaurant in Qatar in 2015, marking the 7th country MOOYAH has entered outside the U.S.
For more information on the growing brand, connect with MOOYAH on Facebook at the MOOYAH Burgers & Fries Fan page or follow MOOYAH on Twitter @MOOYAHBurger.
For franchising opportunities, please visit http://www.mooyahfranchise.com/ .
ABOUT MOOYAH BURGERS, FRIES & SHAKES

MOOYAH Burgers, Fries & Shakes is a fast-casual, "better burger" concept offering mouthwatering made-to-order burgers, French fries hand cut from Idaho potatoes, and real ice cream shakes. Founded in 2007, the Plano, Texas-based company serves fresh, lean American beef, all-natural Jennie-O® turkey burgers, black bean veggie burgers, buns baked in house daily, real cheeses and toppings made from garden-fresh veggies. While many Guests dine in-restaurant, MOOYAH also offers online ordering and carry out for Guests on the go. In 2014, MOOYAH was named in Entrepreneur Magazine's list of the top 500 franchise brands and ranked No. 12 in Fast Casual Magazine's annual Top 100 Movers & Shakers, a list they have been at the top of for several years in a row. The brand also landed on the list of the Top 10 FastCasual Growth Chains by Technomic, Inc. In 2013, the brand was ranked 1st overall in Restaurant Business's Future 50 list. For more information on MOOYAH, its menu or franchising opportunities, please visit http://www.MOOYAH.com. Connect with the brand on Facebook.com/MOOYAH and follow on Twitter @MOOYAHburger.
###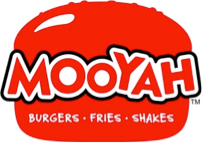 http://www.prweb.com/releases/mooyah/franchise/prweb12634054.htm